Today was the drawing for the Champions League.

All games on February 24:

Chelsea x Juventus
Panathinaikos x Villarreal
Bayern Munich x Sporting
Atlético de Madrid x Porto
Lyon x Barcelona
Real Madrid x Liverpool
Arsenal x Roma
Inter x Manchester United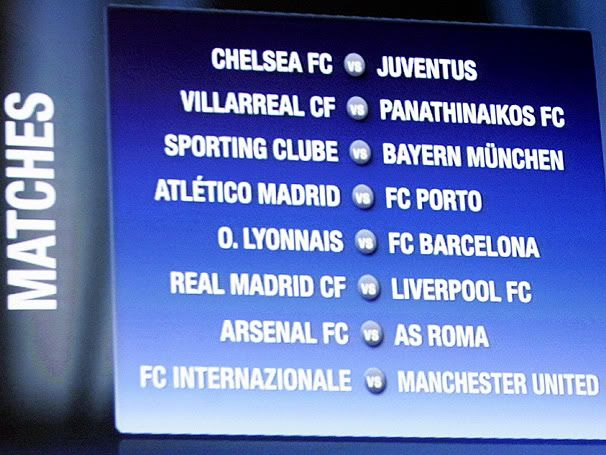 Dec 19, 2008- Champions League Draw. Photo AFP




My predictions:
Chelsea x Juventus = Come on Chelsea!
Panathinaikos x Villarreal = Panathinaikos

Bayern de Munique x Sporting = Sporting of course!
Atlético de Madri x Porto = Atletico, goal by Simao

Lyon x Barcelona = Lyon
Real Madrid x Liverpool = Hope Pepe is fit again for this one. Go Real Madrid

Arsenal x Roma = Forza Roma!
Inter x Manchester United = Inter, Mourinho owes the home fans a victory at the San Siro.

----What are your predictions?


blog comments powered by

Disqus