Betis 2-2 Getafe
gk Ricardo in goal. Casto on the bench.

Marca's headline for the game was 'savior Ricardo' ("EL META DEL BETIS EVITÓ QUE EL GETAFE GANASE TRAS REMONTAR UN 2-0, Ricardo echa una mano a Chaparro"):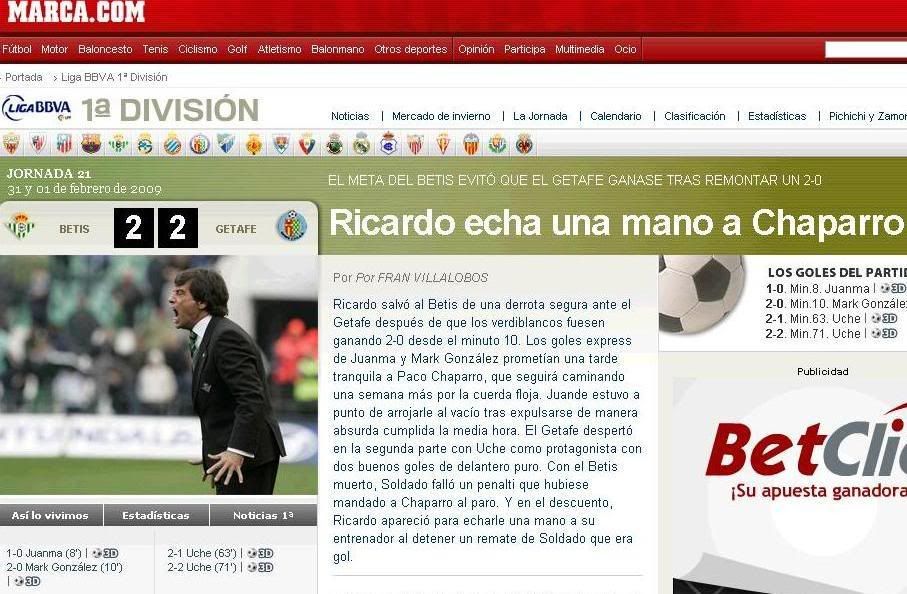 In injury time Getafe COULD have won the game but Ricardo saved a penalty by Soldado and another shot on taget by Soldado.

Betis began winning 2-0 by the first 10 minutes. Everything looked fine until Getafe woke up in the second half and now tied the game.
Goals:
1-0. Min.8. Juanma
2-0. Min.10. Mark González
2-1. Min.63. Uche
2-2. Min.71. Uche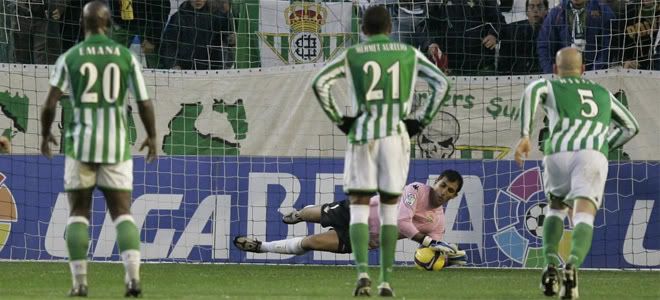 Goalkeeper Ricardo in Betis 2-2 Getafe, Matchday 21, La Liga 2009. Foto: Ramón Navarro
Video- 2 minutes, highlights of the game Betis 2-2 Getafe, Feb 2, 2009, narration in Spanish.
No close-ups on gk Ricardo.
00:00- 00:20 First 2 goals of Betis
01:17- Getafe's first goal, goalkeeper Ricardo wearing the pink jersey.
02:00- Getafe's penalty- Goalkeeper Ricardo saving Soldado's penalty in injury time.
blog comments powered by

Disqus