Submitted by Nini



January 22, 2009- Transcript of interview of Paulo Ferreira by Ben Andrews on ChelseaTV.

BA : Paulo, it's been a little while since we spoke to you – how are you doing?
Paulo Ferreira: No, I'm fine – very well…

BA: 30 years old! Thirty years at the weekend?
Paulo Ferreira: No, twenty (laughs) – Yes, serious.

BA: How did you celebrate?
Paulo Ferreira: With family and some friends. My wife she prepared a, you know like a little party where I was not expect that. It was fine it, it was funny.

BA: Surprise?
Paulo Ferreira: Yeah, surprise! Yes, it was good.

BA: Any other players come?
Paulo Ferreira: No, no, no, not really – because in the beginning I thought that I was just going out for Dinner with only my family and then she decided to make this so I didn't know. And some friends came you know. But not players, not players.

BA: How are you doing in terms of playing? It's obviously been a little bit of a tougher season for you. You haven't played as much as you used to. Is that –are you frustrated by that, are you okay?

Paulo Ferreira: Well it's normal. You always you know work hard and you want to be inside playing at every game. But this has not happened this year so of course you are not happy. And not only me – the others who are not playing many games…so - but even being hard we have to respect the manager decisions and keep doing my job and be ready when he wants it.

BA: It's a slightly strange one for you, cause obviously you know the manager well, you worked together before, he must have said to you "Don't worry, there will be chances"?

Paulo Ferreira: No, you know this is his first year here and you wanna win and of course all of us we wanna play all the games. We have a big squad, a squad with a lot of quality. But only 11 can play and he has to choose the best eleven for each game. Of course I try to do everything to be there and unfortunately for me I have not been there and just have to keep doing my job like I'm doing it till now and wait for another opportunity.

BA: Obviously at the moment Ash and José are playing very well, but with Wayne Bridge going and of course you used to play for Filipe for Portugal at left back quite a lot, didn't you? Including the Euros last year, we saw you playing left back. Are you happy playing there?

Paulo Ferreira: Yes, it's different – what you want is to be there, playing, doesn't matter where. Of course it's a different position but you wanna be there. That's why and now without Wayne maybe it can be more easy for me to play there because I played there before. But doesn't mean that I have to play there…it's the manager's decision. If he wants me to play there I will give everything for this Club like I always did. So let's see…

This is specifically about the FA Cup match against Ipswich 2 days later. It was broadcast on January 23, 2009 on Chelsea TV:

Paulo Ferreira: This Cup is always difficult, you know – You need always to be focused, to give everything and of course try to score as soon as possible and if you have a chance try to kill the game. But we know as well that the teams, the small teams, they came and they try to show something. And even in this kind of leagues there is a lot of players with quality. And we have to give everything and respect always the other team. But this is football and sometimes it happens, this kind of surprises . But we don't want to have the same again… like the other games and even the Carling Cup.

BA : We've had a few before. I can think of one now - a very important match for you - against Colchester. We let them score first at Stamford Bridge and a certain Paulo Ferreira got his one and only Chelsea goal that day in the mud in the FA Cup. Do you remember that?

Paulo Ferreira: Yeah, I remember. Yeah, it was funny because that time Mourinho, because I never went to corner kicks, so at that game he told me "Paulo you go there. I don't want you to go and jump on this - I just want you to appear on the second post and I think you will score today." And it was funny because I went there, the second post and I scored the goal. Unfortunately for me, I want to celebrate in a different way but we were losing 1:0 and I tried like to get the ball quick and try to change the result. But in the end we win, so I was happy

BA: I think you had another chance in that game. Didn't you nearly score two goals? Another one from a header?
Paulo Ferreira: I don't know. I can't remember. I just remember the goal.

BA: Well, you can't forget cause151 games and one goal. Maybe another one against Ipswich then, if Scolari tells you to get up there on the back post.
Paulo Ferreira: No I think, if I play and if I score I will be happy – but more happy if we win the game. so that's much more important.

Screenshots of Paulo Ferreira in the interview: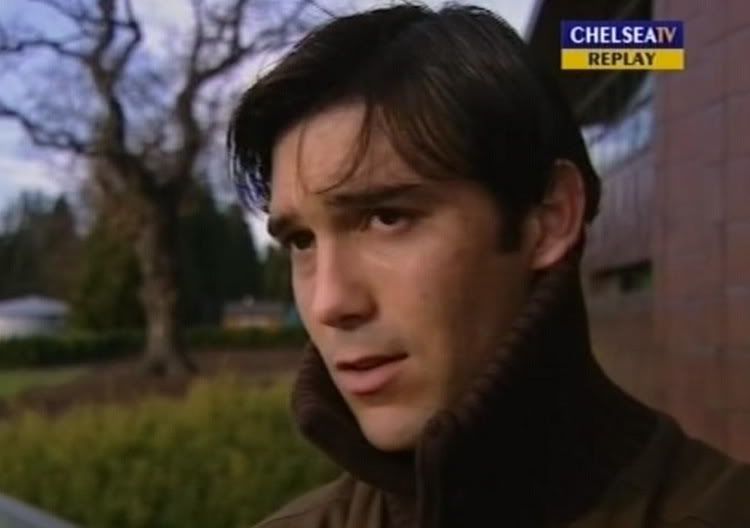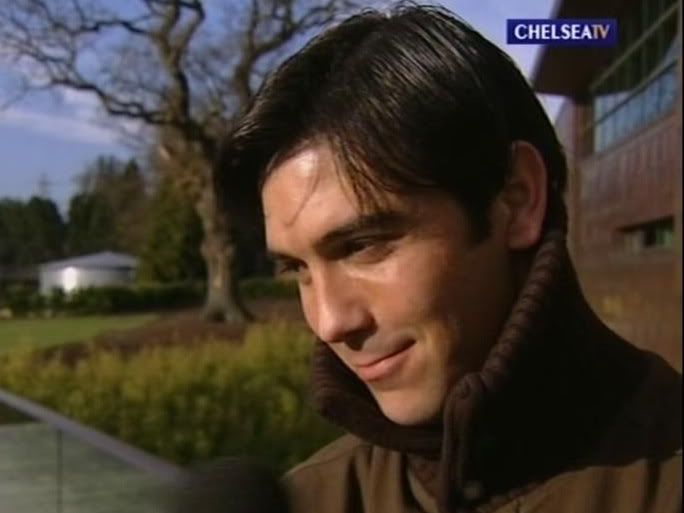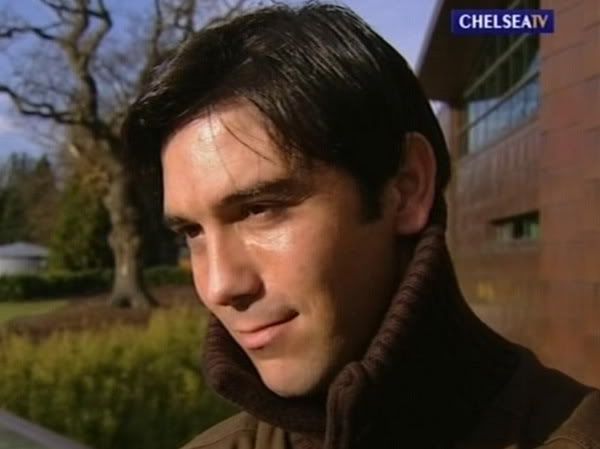 ----
Nini- thank you for sending this. He's breathtaking!



blog comments powered by

Disqus